Everyone knows about the prolific number of places offering the same old English breakfast in Fuengirola. If you have had enough of bacon, eggs etc. and want to enjoy the start of your day like a Fuengiroleño, read on.
The following are just a few of the best local cafés offering desayuno, sometimes with a difference, in Fuengirola.
Café Andino, Fuengirola Centro
Right in the heart of Fuengirola, next to the bus station and only a block away from the Renfe train station, Café Andino is an absolute gem. The writer has been visiting this café for around 12 years now and while originally it was a small, cosy, hole-in-the-wall place with lots of wood and coffee sacks in the décor, three years ago the café was expanded into the spacious and modern establishment it is today.
If you are fond of 100% natural Colombian coffee, this is THE place to be with the best coffee served in all possible forms. If you find the coffee tasty, you can even buy beans or ground coffee to take home with you, plus the café offers a range of delicious Spanish and Colombian delicacies too.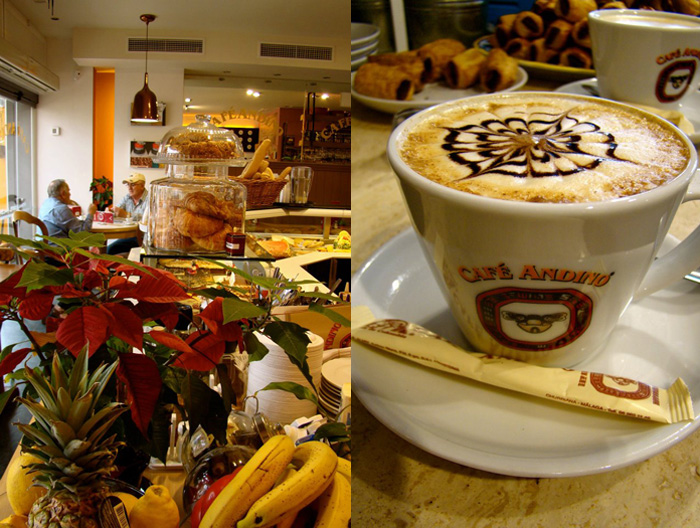 Start off the day with the traditional Spanish toast, spread with olive oil and tomato, or a fresh and buttery croissant, or try a delicious, lightly toasted and melt-in-the-mouth Colombian almojábana (or cheese bread), the writer's personal favourite.
For those who like to enjoy a smoke with their coffee, the café also has a large terrace, sheltered in case of bad weather. The café offers breakfast, brunch and light lunch and seafood meals and is open from 07:30 to 22:00 on weekdays and from 09:00 to 22:00 on weekends.
Coffee Area, Los Boliches, Fuengirola
Speaking of excellent coffee, next we head down to the "village" of Los Boliches in Fuengirola where Coffee Area is a relatively new venue. While it only opened a few months ago, this tiny café already attracts many regulars and is located to the right of Plaza del Carmen and the church at Avenida de Los Boliches number 63 (directly opposite the 24 hour pharmacy).
While there are only a couple of tables outside for smokers, the café offers plenty of seating inside and the very best in Arabica coffee from both Colombia and Ethiopia, together with tasty snacks, rolls and cakes.
Enjoy a traditional cheese and ham roll, toast with jam or olive oil and tomato, washed down with a glass of fresh orange juice, all the while savouring the amazing aroma of fresh coffee brewing behind the counter. Those with a sweet tooth can choose from a variety of tasty baked products too.
Coffee Area has attracted 4.9 stars out of 5 with 16 reviews on their Facebook page. The café is open from between 8 am and 9am to between 9 and 10pm in the evening, but is closed on Sundays.
La Costa Café Bar, Los Boliches, Fuengirola
A little further down Avenida de Los Boliches and on the other side of the road at number 78, La Costa Café Bar is another fairly recent arrival. The café rather interestingly offers both Lebanese and Brazilian food in the form of breakfast, lunch and dinner.
Incredibly busy in the summer months after opening, the café has rapidly attracted local custom and always has a happy crowd sitting on the terrace tables outside. Indulge in a traditional Spanish breakfast with toast or a tasty pastry, washed down with a cup of good Italian coffee, or get adventurous and taste-test the Brazilian and Lebanese dishes on offer.
The café is open from 9am in the morning, closing in the winter months at around 10pm and in summer when everyone finally leaves.
Pan y Chocolate, Fuengirola Centro
For something really different, with a quaint atmosphere, Pan y Chocolate is a must visit in Fuengirola at any time of the day and is highly recommended for a light breakfast treat. The café is located close to the bus station at Calle San Pancracio number 6.
Either sit inside the café with its attractive and unusual artistic décor, or head out the back to the terrace and enjoy breakfast or brunch in the fresh air. Besides the excellent coffee on offer, there is a range of delicious organic teas and infusions, along with the usual toast and pastry options and fresh juices, all served with love. Those with a sweet tooth can enjoy delicious home-baked cakes, muffins and pastries. Naturally the famous Spanish "churros" are available for dunking in your hot chocolate or coffee. Get daring, and eat some homemade quiche for breakfast!
Of interest to note, the menus come to you wrapped in old record album covers and the many of the classics of pop and rock play in the background as you enjoy your meal. The restaurant also offers tasty and healthy lunch and snack options throughout the day.
The restaurant has achieved a 4.7 out of 5 rating from 287 reviews on their Facebook page. Incidentally don't be confused that their Facebook page lists them as "San Chocolate" – this is because there is already a Pan y Chocolate listed on the social media platform.
The café is open from 9am to 9pm, Monday to Thursday and 9am to 10pm at the weekends.
Chirimoya Healthy Food Station, Los Boliches, Fuengirola
Where do vegetarian and vegan Spaniards head for their breakfast treat? One great venue is Chirimoya Healthy Food Station, tucked away at Calle Iglesia number 3. The restaurant serves breakfast, lunch and an early supper for those who enjoy going meat free and has many good reviews from non-veggie people too.
The two owners boast that everything they serve is organic and ecological and while sometimes the dishes look deliciously naughty, everything is good for your health.
This is the place to enjoy a really unusual breakfast, for instance a delicious combination of fruit-spelt muesli, corn flakes, apple, kiwi, strawberry, honey, cinnamon and grated coconut, pictured below left. Enjoy fresh fruit and natural yoghurt and freshly-made vegetable and fruit juices.
For something warmer, tuck in to a plate of freshly scrambled eggs with a variety of ingredients, including asparagus, spinach and red onion, or peppers with tomato and brie cheese. Alternatively enjoy mollete with guacamole and rocket and a fried egg on the top, pictured above right. The choice is yours, as the friendly owners will, within reason, make whatever you fancy. Later in the day enjoy everything from soups to pizzas to vegetarian burgers and everything in between.
Chirimoya is open from Tuesday to Friday for a later breakfast from 10am to 6pm and on the weekends for brunch or lunch from 12pm to 6pm. They are closed on Mondays.
Enjoy your stay in Fuengirola and bear in mind, Spain being Spain, all these lovely breakfast options are available until late in the morning.