Let's face it, Americans like to eat.  Eating out in Orlando is part of the whole experience!  The portions are big, the steaks are juicy and the breakfasts are epic!  Eating out in Orlando is a relaxed affair; most restaurants have a diner atmosphere and certainly a casual dress code.  The European idea of taking hours over dinner and wine does not apply in Florida so relax, crack open a Bud Light and follow our guide to the best places to dine out in Orlando and what to expect…
For a busy, sports bar experience try Applebees…
Applebees is the ultimate American sports bar with TVs showing basketball, baseball and NFL Football and well as sports memorabilia lining the walls.  Applebees are open until at least midnight and quite often later so they are also good for a late night drink.  You can also get appetisers while at the bar like nachos and onion rings, delicious with a cold beer!  The menu is vast and you can get everything from fish and chips to pasta dishes.  They also have weight watchers options and meals with less than 500 calories per portion so if you want to watch your waistline while you are away these are good options.  The ribs here are amazing!
For scrumptious Seafood try Red Lobster…
Unsurprisingly the speciality at Red Lobster is their wood grilled Lobster.  Whether you try the delicious lobster tails or go for the whole lobster (you can pick your victim) from a tank in the restaurant, you won't be disappointed.  The scallops and shrimp are also amazing here.  If you are more of a meat eater there is plenty of choice with steaks and chicken on offer as well as some great veggie dishes.  You have to try the 'biscuits' that are brought to the table before your meal, these warm doughy, cheesy buns are out of this world!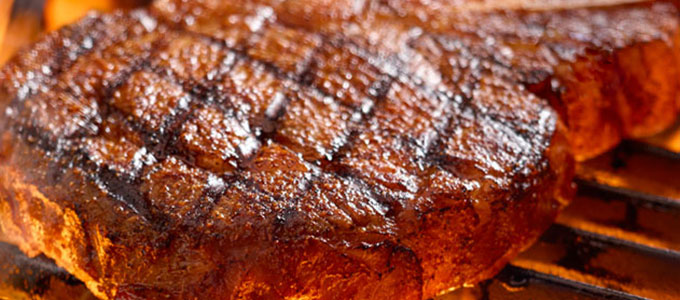 There are several contenders for the title of the best steakhouse in Orlando but I personally think that Longhorns cannot be beaten, and the queues of people waiting to get in there seem to agree!  If you don't like red meat then this probably isn't the place for you.  If you do, you'll be in heaven!  You can have every cut of steak imaginable cooked just how you like.  The prime rib is probably the most tender piece of steak I have ever eaten and there is a great choice of side dishes too.  It's also worth noting that Longhorns do a fine Margarita cocktail (trust me I tried a few while I was in Florida and this was the best.)  As this is a popular restaurant a good tip in order to avoid the queues is to 'call ahead' which is the American way of reserving a table but you can only do this about 20 minutes before you arrive so you can call before you leave home and get a table straight away!  Otherwise you can always get a drink at the bar while you wait for your table.
For an awesome breakfast try Denny's…
Denny's diners are everywhere in Florida, they are pretty much a national institution in America.  They are open all day but I personally think they excel at breakfasts (or brunch if you are feeling lazy!) The 'Ultimate Omelette' was a personal favourite served with hash browns and wheat toast.  The sizzling skillets are also mouth watering.  If you have a sweet tooth the pancakes with maple syrup and butter cream are delicious (if a little calorific!) and the fresh orange juice is perfect.  The service in Denny's was also impeccable each time I visited and it really does put you in a good mood for the day!