When visiting Spain, an essential part of your experience is to taste and savour the various tapas on offer. If you are new to the idea of tapas, the word itself comes from the Spanish verb "tapar," or "to cover." The idea arose in the past from drinkers of the famous local sherry. To prevent fruit flies from hovering over (or diving into) their sweet beverage, tavern visitors used to cover their glasses with slices of bread or meat to distract the annoying insects.
Eventually the idea of the cover itself became even more important than the sherry, and the modern-day tapas snacks were born. As this is essentially an appetizer or snack, a popular activity in Spain, and naturally on the Costa del Sol, is to visit various taverns along the way, sampling their wares. When staying in a hotel or holiday rental in Mijas, here are some of your closest and best options, both in Mijas Pueblo itself and along the Mijas Costa. You will note that the tapas on offer is not always Spanish, as other nationalities are getting in on the great idea.
KonFusion Tapas & Cocktail Bar
Calle Bulevar de la Cala,
Ed. Elena N. 4,
29649 La Cala de Mijas,
Mijas, Spain
This great option is dubbed a "Tapas Bar & Restaurant · Gastropub" on their Facebook page. As mentioned it its name, KonFusion Tapas and Cocktail Bar experiments with fusion and creative cuisine with always something new on offer. Reviewers of the restaurant rave about tapas with a Spanish or Brazilian touch and even the taste of Slovakia, which gives an idea of how fresh and different this location is. The image from their Facebook page shows a blend of salmon, cream cheese and wasabi.
Oscars Tapas Bar
La Alcazaba de Mijas,
Plaza de la Constitucion,
29650
Mijas, Spain
If you want to be right in the heart of Mijas Pueblo, but perched out on a terrace overlooking the Mediterranean Sea, Oscars is the place to be. Oscars offers a range of tasty Mediterranean delights along with some excellent Spanish wine. In the background, a musical blend of lively jazz music, along with some funky flamenco, keeps the mood going. Oscars is one of those locations where people tend to keep on returning for more.
Vinos y Tapas
Centro Comercial Valdepinos,
Urb. Calypso,
Mijas Costa,
Mijas, Spain
Heading back down to the coast, we next visit Vinos y Tapas. The vibe here is great with the owner Sam offering a welcoming ambience and as per the name of the bar, wine and tapas is the name of the game. Served fresh every morning, the typically Spanish tapas is delicious and often varies come evening time for an added attraction to go back again.
Bodega el Placer
Los Canos n.4,
Mijas Pueblo,
29650
Mijas, Spain
Back in the Pueblo we pop into what has been dubbed by some reviewers as the "Best tapas in the Mijas area." Bodega el Placer offers an extensive range of Mediterranean and Spanish tapas, including vegan options, all made with locally-sourced ingredients and all washed down with an excellent range of local wines or ice cold beer.
Tapas Bar Carmen
Avenida Virgen de la Pena 5,
29650
Mijas, Spain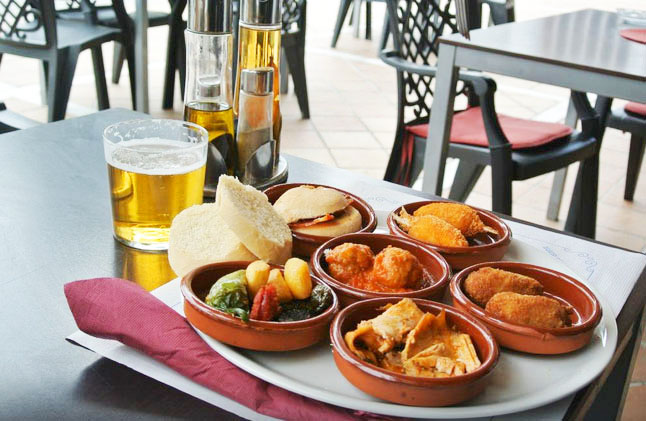 Just around the corner, Tapas Bar Carmen is located near the bus station for those visiting from out of town and offers a great variety of tapas along with friendly and helpful service, all quaffed down with a glass of excellent wine or beer. Ironically some reviewers have commented that Tapas Bar Carmen serves the "worst English breakfast," but that kind of food is obviously not a speciality in a typical Spanish tapas bar. Rather indulge in the tasty local offerings and eat your eggs and bacon elsewhere!
While there are plenty more tapas bars and restaurants available in the area, have a great holiday and remember to try out the various recommendations above.