When holidaymakers choose Florida, and Orlando/Kissimmee in particular, as their holiday destination, they tend to land up and spend the next few weeks trekking around the World famous theme parks, shopping in designer outlet malls, eating in diners and generally living the life of a tourist in one of the most popular holiday destinations on the planet. It is completely understandable to do this as there is so much to see in a relatively short space of time. If you are going to venture further afield, take my advice and head to Miami.
Miami's South Beach is known for its cosmopolitan lifestyle, art deco buildings, palm lined Ocean Drive, Lincoln Road designer shops, pristine white beach and its amazing nightlife. It has all this and more.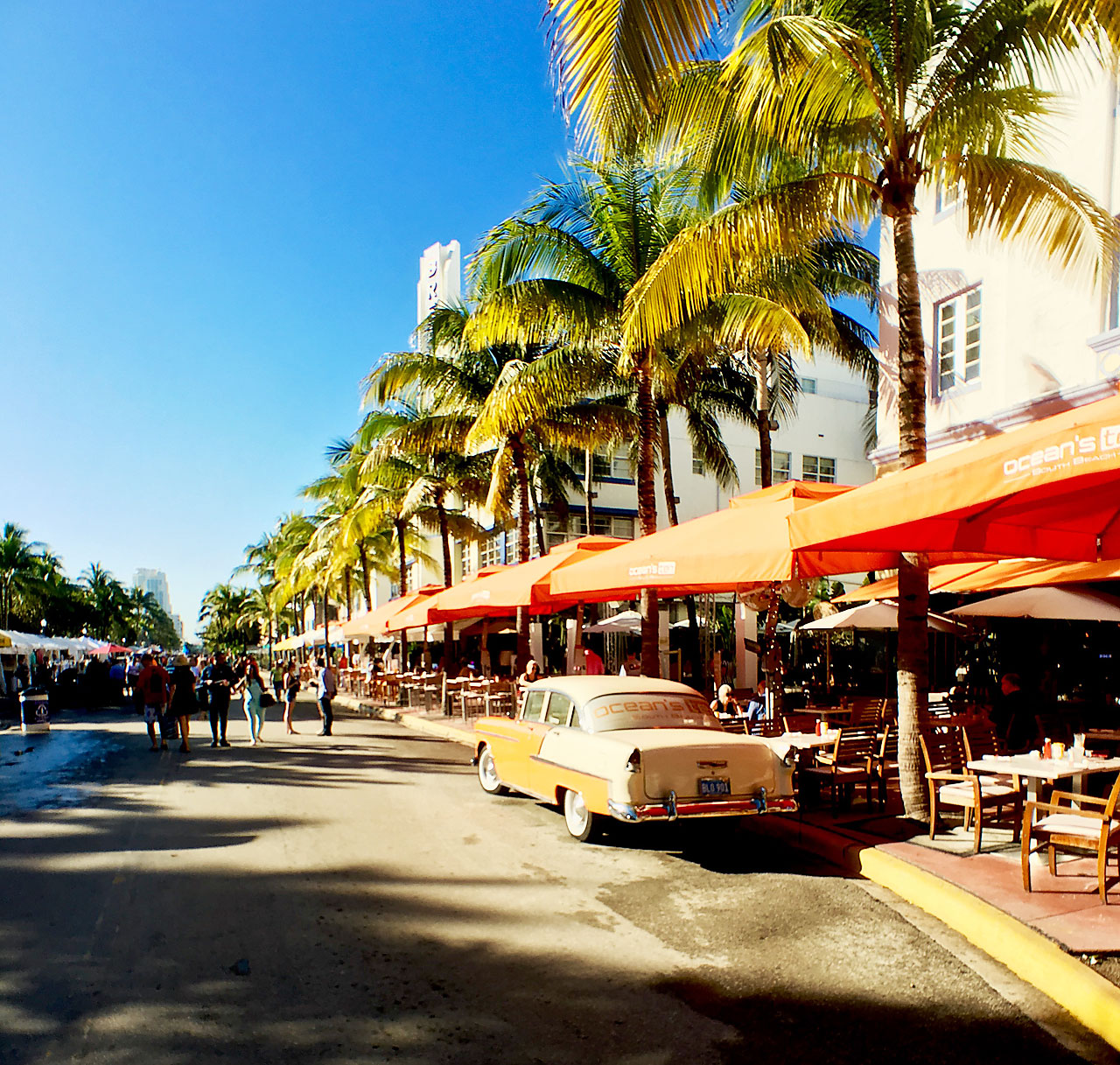 Located just 225 miles from Kissimmee, it is a straight forward drive down to Miami on Highway 192 East, then onto Florida's Turnpike (FL-907.) On a good day you can do this journey in around three and a half hours. Unfortunately, I set off on a 'not so good' day when the wind and rain was lashing and tornado warnings kept popping up on my mobile informing me that I was in the 'danger zone' for most of the journey. Let's just say it took considerably longer than the three and a half hours. The run back to Kissimmee was trouble free and it did, indeed, only take that amount of time.
I would really recommend staying over in Miami for a few nights if you are going to make the journey down there. You can get a really good feel for South Beach in a few days and it saves having to set off at the crack of dawn to get the most out of your time there.
Collins Avenue is the place to stay if you have the cash to do so. This road is lined with impressive hotels, most of which back onto South Beach and have their own pools and 'beach cabanas' for guests to enjoy. You can also easily walk to all that South Beach has to offer from this location.
Arriving on a Friday evening I asked the hotel staff for restaurant recommendations and they simply told me to 'head to Lincoln Road.' This famous shopping district is also lined with restaurants serving everything from Italian to Caribbean food. We settled on a Cuban restaurant called Havana 1957 which, like most of the eateries along Lincoln Road, a covered dining area right on the street that is perfect for people watching. The menu was full of tasty Cuban dishes and I'd recommend the roasted pork leg or the roast chicken special with Cuban gravy; both very tasty. There was also an extensive list of mojitos on offer if you are partial to this Cuban cocktail.
There are lots of fantastic ice cream parlours along Lincoln Road too. I stopped at Gelateria 4D and enjoyed 3 delicious scoops of the best ice cream I have ever had. Too tired and full to enjoy the nightlife, I headed back to the hotel ready for an early start the next morning.
One thing worth mentioning is that Miami enjoys a balmier climate than Kissimmee on the whole. It can be up to 10 degrees warmer down in Miami than in Kissimmee and, once the terrible rain of the day before had cleared, I woke up to 26 degree sunshine (in January.)
I walked along the beachfront promenade, avoiding Miami's barrage of beautiful people running, cycling, rollerblading themselves along on this glorious Saturday morning. The promenade leads down to the famous Ocean Drive which on this particular day was all set up for a weekend market and vintage car show. The street had been pedestrianised and it was lined with stalls selling everything from handcrafted jewellery to 'gator burgers.'
The famous art deco district is not a disappointment in the flesh. Pastel coloured buildings line the street that is fringed with thin, tall palm trees wafting in the breeze. It's all pretty idyllic and the cafes brimming with locals and tourists give the street a real buzz.
Saturday afternoon was spent soaking up the rays on South Beach. Even in January the turquoise Atlantic Ocean was warm enough to swim in and the sand is soft and white; it really is as good as it looks on pictures! It is also the only beach I have ever been on where I have seen a man fully dressed in the sea with a metal detector!
On Saturday evening I headed for a Brazilian restaurant called Frogo de Chao, a recommendation from the hotel manager. If you like red meat, this is a must. It's a different concept where you take all your side dishes including pastas, salads and vegetables from a buffet. Each diner then has a card on the table which they can turn to green or red. Green means 'bring me the meat' and waiters appear every few minutes with a choice of different cuts of beef, lamb, pork or chicken. You can eat as much as you want of this before turning your card to red to indicate you are about to explode, or you simply need a breather. It is certainly a different way of dining.
I didn't visit Miami for the nightlife on this occasion but I can safely say that you would not be spoilt for choice of nightclubs if that is your thing. For me, the nice thing about Miami was that it offered more of a relaxed beach holiday resort kind of vibe than Kissimmee and Orlando. You can walk or cycle around Miami Beach instead of jumping in the car and being near the beach is always nice. It can't beat Orlando for the fun factor, especially if you have kids, but it is well worth the drive to experience a different side to Florida.
For details of all of our great Florida Holiday Home Rentals click here.