Introduction
Mijas is one of the most visited villages on the Costa Del Sol, Spain. Tourists, when planning a trip to Spain should always make sure that they visit Mijas. It is both a cosmopolitan city and a mountainous village that can also boast top quality golf courses.  It is definitely worth taking some time out to explore this wonderful place with lots of surprising things for you to see.  You can find the waterpark, racecourse, donkey taxi ride and pine trees here at Mijas. The white houses, perfectly situated between the sea, the mountains, the flora and the fauna and various shops are why Mijas is a perfect spot for spending your holidays.   Mijas is also an historical town with classy architecture.
Let's tell you the 15 reasons as to why you should visit Mijas:
15 Reasons to Visit Mijas
1. Donkey Taxis
Travelling in Mijas either on foot or by the tuk tuks is one way to explore it, but what makes Mijas more famous is the Donkey Taxis, especially when you are travelling with your children. There are some limits to where the donkey taxis can go but it is still a must to try when you are here.
For more information on this unique mode of transport read our guide to the Famous Burro Taxis
2. Mijas Wine Museum
A huge attraction for many tourists from around the world is the wine museum of Mijas where you can sample the national and local wines, with experts on hand to tell you about the process of wine making and how to get most out of the tasting.  It is literally heaven for the wine lovers. Different wine tasting courses are also held so if you are a serious wine lover drop in to the museum to have an exclusive experience.
If wine isn't your bag and you prefer a thirst quenching gin and tonic, you may be interested to read about our pick of the Best Gin bars on the Costa del Sol.
3. Mayan Monkey Mijas
This is very popular with the children!  The Mayan Monkey Mijas is the world's smallest chocolate factory, organizing workshops for adults as well as children.  You can even make your own chocolate bars.
4. Annual Mijas Fair
In honor of the Patron Saint of Mijas, a celebration week is held every 8th of September. All of the residents and tourists alike turn out to see the main square adorned with drinks and food stalls. Horses are decorated and the locals dress up in their famous Flamenco attire.
5. Bullring
This large oval-shaped Bullring opened in 1900 and was used for bull fights and horse-shows. The bullring is built on a rock next to the Nuestra Señora de la Concepción Church. The bull fighting doesn't happen anymore but visitors can still enjoy a beautiful view from here.
6. Miniature Museum
The miniature museum is one of the must-see attractions of Mijas Town. The museum is unique as it is actually in a gypsy-style caravan showcasing tiny pieces of sculpture and art. The museums actual name is Carromato de Max.  The museum displays things from more than 50 countries. The museum may not look very special from the outside but once you step inside you'll be glad you visited.
7. Cuisine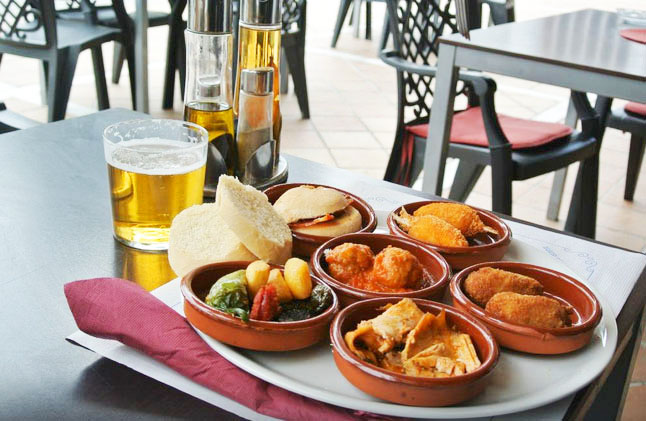 The simple local food of Mijas is a must-try but if you are looking for something fancy then then try the soups, fish and dessert in the many restaurants , cafes and tapas bars. A few recommendations to get you started are the maimones soup, cachorrena, garlic soup, fried fish, espetos, hornazos, bunuelos and leche frita.
For an idea of the best tapas bars in Mijas, read our guide to 5 Recommended Tapas Bars in the Mijas Area.
8. Los Canos Street
To end your visit in the village, make the Los Canos Street your last stop. This street is filled with lots of souvenir shops and restaurants at great prices. It is a nice friendly street to walk through and meander and browse.
9. Mijas Water Park
Forget the beach and take your kids to the Mijas Water Park to have a day full of fun. Adults and children can enjoy the wave pool, 50 meter long slide, Jacuzzi, kamikaze etc.  There's a picnic area too that serves pizza, ice-creams, soft drinks and sandwiches. You can also find nursing, first aid, souvenir shop, chairs for rent, security service and floats.
10. International Day
The International Day of Mijas is celebrated in the first week of June, in which there is a party full of colors where the whole community is involved. Stalls are set up that represent the food, drinks, crafts and customs of each country.
11. La Piscina Rave
A dream like place for sport activities whether you are a mountain biking, climbing, BMX or skate fan.
The Costa del Sol is bursting with great activities and there are lots of ways to keep active whilst on holiday in Mijas.  Check out our guide to 5 Fun Ways to Keep Fit on the Costa del Sol for ideas of how to keep your blood pumping.
12. El Barratillo
El Barratillo is a street market, which takes place every Wednesday and Saturday featuring stalls with a wide range of clothes, plants and ceramics etc.
13. Hermitage of the Port
The Ermita del Calvario is located above the village and is funded by an old lady who promised that if God gave her a son, she would make a chapel there. The chapel is white in colour with green pine trees surrounding the building making it look so elegant that you really shouldn't miss this.
14. Beach
Several beaches can be found here where you can enjoy just sitting at a bar or sailing, diving and wind surfing. The beaches of Mijas have been awarded the Blue Flag eco label. A theatre and many other sports facilities can also be found at the district of Las Lagunas.
15. Holy Week
Easter week is one of the busiest weeks in Mijas, making it a great time to visit and experience the true culture.  A parade leaves the village of the church through the cobbled streets with the statues of Christ and Mary in mourning. Costumes are worn and the whole village is decorated. Fireworks and drinking are strictly not allowed during the event.
If this has whet your appetite and you want to finds out more about beautiful Mijas, check out our Area Focus on Mijas for an in-depth guide to all you need to know about this pretty village.