When on holiday on the Costa del Sol it is always good to try out the local shops, popular with the residents themselves and not so geared up to charge touristy prices. Whether you're staying in one of our apartments in Fuengirola or not, the following is a range of various businesses, recommended to try out on your stay in Fuengirola.
Bakery/Cake Shop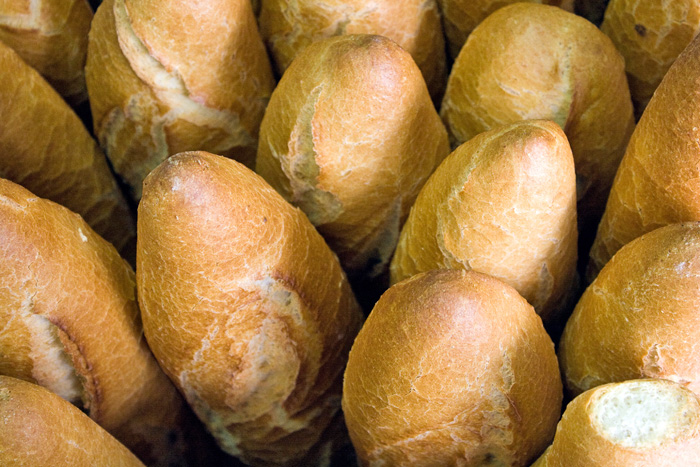 Palas Costa del Sol is a "panadería" (or bakery) and "Pastelería" (purveyor of pies and tasty cakes), located at Avenida de Mijas, 6 in central Fuengirola and offers a full range of all types of Spanish bread, pastries and cakes.
Whether you want a baguette to make a picnic lunch, a whole loaf to feed the family or a couple of bread rolls, the selection is great, while prices are kept reasonable, making this a popular destination for locals and visitors alike.
Bread is known as "pan" in Spanish and bread rolls are termed "bocadillo," and the bakery also offers delicious fresh croissants, pan integral (brown or whole-wheat bread), and either white or brown baguettes. For those who just want the normal, sliced white or brown bread, loaves are ready packed and available too.
The range of traditional Spanish cakes and pastries definitely tempt the appetite, again at affordable prices.  If you haven't yet tried a Spanish omelette – or "tortilla" as it is known in Spanish – Palas is a great place to experiment with either an individual portion or a whole tortilla.
Tables are available to relax with a coffee and tasty snack while you are there. To see the location and outside of the bakery, visit Google maps here. Depending on where you are staying in Fuengirola, Palas also offers another branch close by at Calle Málaga/Avenida Finlandia 23, in Los Pacos.
The bakery is open every day of the week, from 7 a.m. to 10 p.m.
Delicatessen
Spain is rightfully famous for its Iberian ham and tasty artisanal cheeses and there are several good delicatessens available in Fuengirola. One company, however, comes highly recommended by local and visiting Spaniards, and has three branches in Fuengirola.
Romero Torres can be found at Avenida de Los Boliches, 58, in Calle San Rafael, 23 and in the Parque Miramar shopping centre. The company offers a full range of Jamón Ibérico and Jamón Serrano (dry-cured uncooked ham), from the most expensive to the more affordable. You can either buy the entire leg or slices to suit your budget, along with the famous Spanish chorizo and other local sausages. They also have turkey products and black pudding available.
Also on offer is a good range of goat, sheep and dairy cheeses of all descriptions and maturity. You can choose from among the best local olive and eggplant products including virgin olive oils, honey and some excellent Spanish wines. The shops are open from 10 a.m., closing for siesta at 2 p.m. and reopening from 5 p.m. until 10 p.m.  Visit the shop on Google Maps here.
Greengrocers
Fruit and vegetable shops are, to use an American expression, a "dime a dozen" in Fuengirola, so it pays to watch out for those who offer the freshest produce at the best prices. While the municipal markets in both the centre and in Los Boliches offer a good range, they are not always the cheapest.
One of the most recommended shops for locals is Frutas los Manantiales, located at Avenida de Los Boliches, 70 in Fuengirola (pictured here). They also have other branches in Avenue de Mijas in Fuengirola Centro and in Torremolinos.
Not only are their prices highly competitive, every morning trucks arrive with the freshest in fruit and vegetables available on the coast, ensuring that what you buy is good, is fresh and will last. They also offer items like jars and cans of olives, olive oils and herbs.
Frutas los Manantiales is open every day of the week from around 8 a.m. right through to 10 p.m., although they do sometimes close a little earlier on Sundays. Find the shop on Google Maps here.
Off Licence or Liquor Store (Licoreria)
Many of the tobacco shops offer a good range of liquors, but hiding away at Calle Francisco Cano, 26 – close to the beachfront – is a small shop selling all types of alcoholic beverages at excellent prices. Licoreria La Latina is interesting in that it doesn't just sell the normal range of beers, whisky, brandy, vodka, etc, but also a selection of liquors from the Caribbean and Latin America, along with other products from those countries.
Of particular interest to tourists is the range of alcoholic beverages sold in plastic bottles, so much lighter and easier to carry on the plane home.
The shop is open every day of the year from 10 a.m. to 2 p.m., closing for siesta and re-opening at 4 p.m. until 8 p.m. They also offer home delivery. You can see the location of the shop on Google Maps here.
Organic and Eco-Friendly
As many people in the world turn to organic and more naturally produced food, Spain is starting to follow the trend with shops selling organic and ecological products, fruit and vegetables. While some are expensive compared to other areas of the world, there is a good choice to be made.
BioNatura has two stores to their name and the one in Fuengirola can be found at Avenida de Los Boliches, 112. The other is located further down the coast in Marbella.
The shop sells organic fresh fruit, vegetables, meat, milk, cheeses, butter, bread and eggs, as well as pastas, rice, flours, teas and other culinary products. There is also a choice of food suitable for vegetarians and vegans, including delicious ice creams, yoghurts and prepared vegetarian burgers and other options.
BioNatura also sells a range of vitamins, health products, cosmetics, baby food, cleaning products and pet care and pet food products, all guaranteed to be ecological. Also on sale are organic seeds, perfect for those who want to produce their own organic foods at home along with cool drinks, sweetened naturally without sugar.
The shop is open from Monday to Friday from 10 a.m. to 7 p.m. with no siesta and on Saturday from 10 a.m. to 2 p.m.  You can visit the shop on Google Maps here.
Enjoy your stay in Fuengirola and the fresh and tasty produce on offer in town.